James Rutherford, 127 Sauchiehall St., 1880 - 1889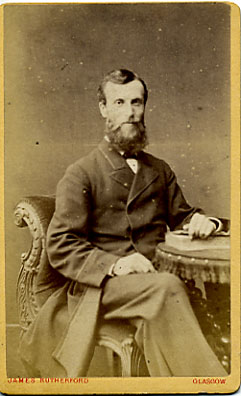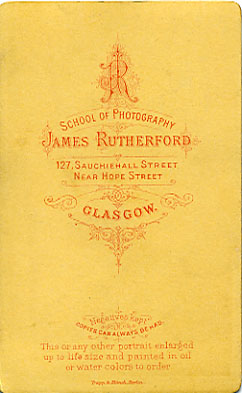 The design on the back of the cdv above is almost identical to that featured on the later cards of the Rutherford brothers, suggesting that they separated, and James just altered the name on the cards. The card was supplied by the Berlin printers Trapp and Munch, and presumably came from the first year or two of the period above.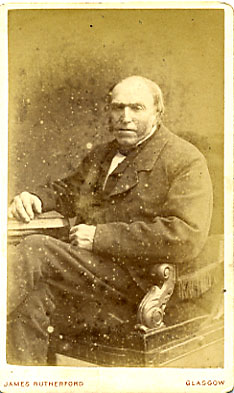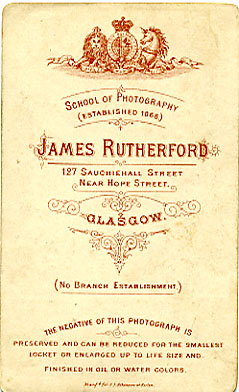 The rather low contrast and spotted image on the cdv above also comes from the early 1880s. The 'No branch Establishment' on the card is perhaps explained by the probable presence of his brother John working at the same time from the Paterson studios. The fact that he refers to the 'School of Photography' that was 'established in 1868' confirms that he was one of the earlier Rutherford Brothers. This card is 'Manu'fd for J.J. Atkinson, Berlin'
The card below, which has its original tissue still attached, is a more accomplished product, and refers to the carbon process, so is possibly later.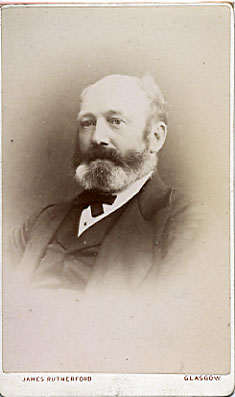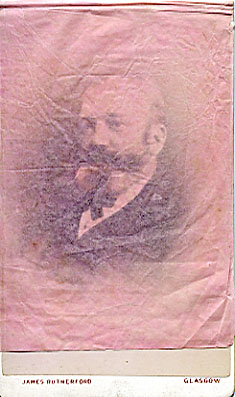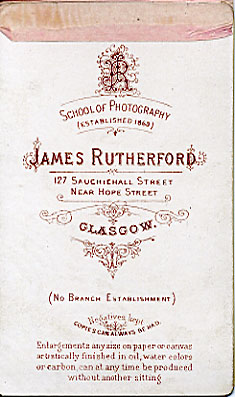 It is not certain that the cabinet card below comes from James rather than John. However, it is a later product, coming from the end of the above period, on medium thickness glossy card with gilt and chamfered edges. Originally it had the same pink tissue attached to the back, and has a chamfered edge.