Charles Turnbull, 10 Jamaica St., 1849 - 1851?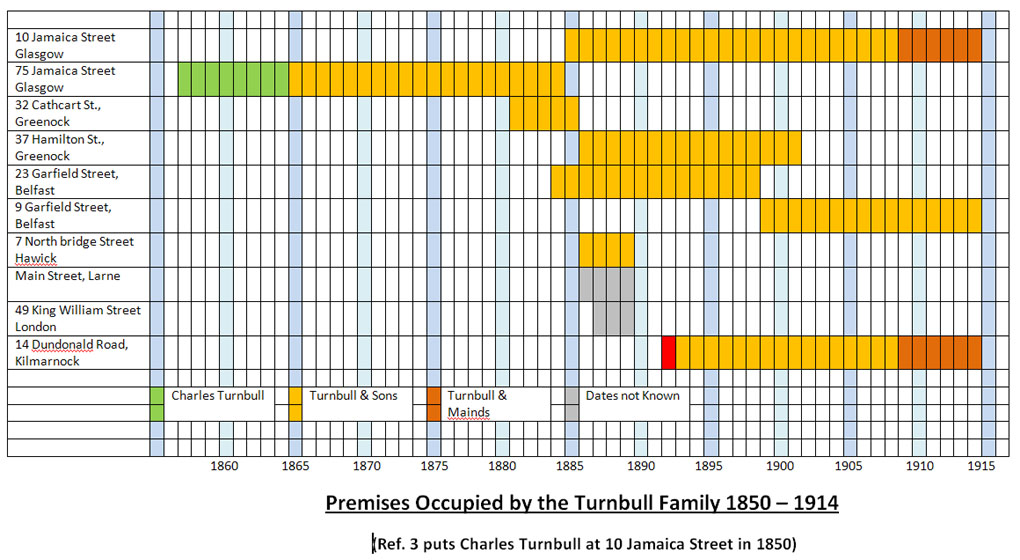 The graph above attempts to show the spread of the Turnbull family's activities in the Victorian and Edwardian periods. Though they seem to have occupied only the two addresses in Glasgow over a period of 65 years, determination of the dates of activity at the other sites will help to narrow the range of dates of any card. J. G. Mainds seems to have been the proprietor in both Greenock and Kilmarnock from about 1892, but does not appear in the firm's name as Turnbull & Mainds until about 1909. The company appear to have changed addresses in Belfast after 1898, but no mention of their activities at the new 9 Garfield street address has been found on any of their products here.
Ref. 2 has a Charles Turnbull, photographer aged 29 listed in the 1881 census. He is likely to be one of the sons of this present Charles Turnbull, who died in 1874. Robert Turnbull, another of the sons, was a manager of the practice, and died in 1891.