Other Sources of Information
There are many web sites which contain information, guides and examples which are of great assistance in identifying and dating old photographs. One such is www.cartes.freeuk.com which contains a vast amount of information on cdv cards, fashion, design of card backs, and provides a very large number of examples. These are mainly English, but it is likely that the information is valid for Scotland also. Another is www.cartedevisite.co.uk which draws on a vast collection of some 200,000 images to provide a dating service, or to provide images or other information.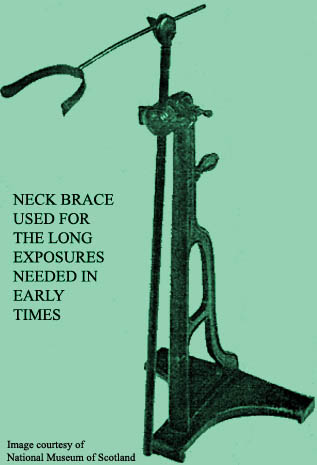 There are a number of useful books available, eg,'Dating Old Photographs' by Robert Pols, published by Countryside Books, and 'Family Photographs 1860 - 1945' by the same author, published by the Public Record office, both of which have further useful references.
A number of sources have been referred to in the compilation of the list of photographers in this site. The first of course are the Glasgow Post Office directories, which from 1854 listed the 'Photographic Artists' of the city. Where no other source is given, the information comes from these directories.
There is also a Royal Photographic Society 'Photohistorian Supplement' entitled 'Victorian and Edwardian Photographers in Glasgow' edited by Michael Hallett. It is noted in the tables in this site where the contents of this document differ from, or offer something additional to, the entries in the trade directories. These are identified as coming from 'REF. 1.'
A booklet published by the Scottish Genealogical Society (www.scotsgenealogy.com) entitled 'Photographers of Lanarkshire to 1914' compiled by D. Richard Torrance, again has a number of good references. Contributions from it in this site are identified as coming from 'REF. 2.' A Companion volume, 'Photographers in Western Scotland to 1914' by the same author is 'REF. 7.'
All the district 'Photographers' volumes previously produced by this author have been brought together, along with much additional information, into two volumes published by the Scottish Record Office in 2011 ('Scottish Studio Photographers to 1914'). References to this comprehensive and definitive work will be identified simply as 'TORRANCE'.
For information prior to 1854, there is a paper published in the 'Scottish Photography Bulletin' (Spring 1988} entitled 'Photography Comes to Glasgow: a Survey of Fifteen Years 1839 - 1854' by William Buchanan. this is a valuable source of information about the earliest times, and contributions from it have been identified as coming from 'REF. 3.'
Reference has also been made volumes of Slater's ' Royal National Commercial Directory and Topography for Scotland, and where an entry has come from these, the source is identified as 'REF. 4'. Information coming from MacDonald's Scottish Directories is identified as 'REF. 5'.In the early years of the 20th century some useful information came from the 'Glasgow and West of Scotland Trades Directories - 'REF. 6'. These were consulted in the Mitchell Library, Glasgow, and their assistance there is gratefully acknowledged.
THE EARLY YEARS
The Glasgow Post Office Directories only recognised and introduced the category of photographer ('Photographic Artists') in the year 1854. Prior to this, it is possible to find in the directories names that later appear as photographers already at the later addresses. They appear in categories such as 'Portrait, Miniature and Landscape Painters' (Edward Robertson, 255 Sauchiehall Street in 1852), 'Lithographic Printers' (A. & W. McTear, 2 St. Enoch Square in 1850), 'Engravers & Printers (John Urie, 33 Buchanan Street in 1850). Cdv Cards from J. Hogg state that he was established in 1850. It is not possible from this information to say when these pioneers made a start in photography.